Yesterday, I did a webinar for the BC Human Resource Management Association on the topic of Virtual Collaboration.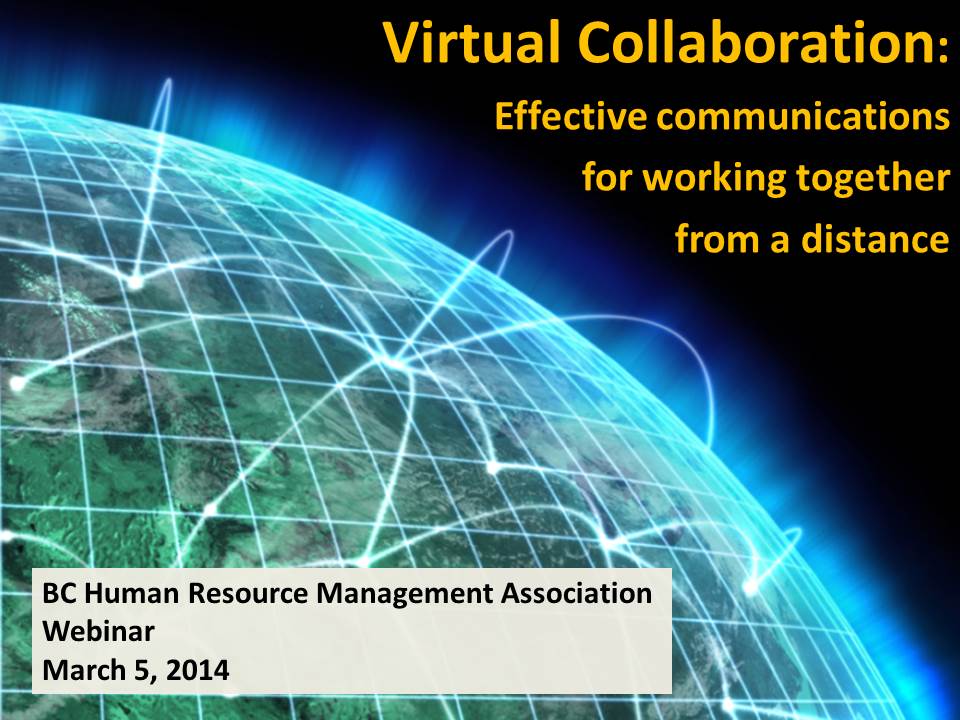 The webinar attempted to address some of the typical challenges, dilemmas we face, as we try navigate and work together, in the virtual medium; be it using email, text, audio, video…
Here's some of those virtual dilemmas:
Virtual communications
Your message isn't getting heard the way you would like
People are not responding in a timely manner to your "urgent" requests
Too many communication channels to choose from and the technology is always changing
Virtual relationships
How to nurture your collaboration through virtual relationships and interactions?
You want someone you've never met in-person to know and trust you
Your familiar (in-person) ways of interacting may not apply
Virtual collaboration frameworks
"How do we get everyone on the same page, when we are all in different places?"
"We are more productive when everyone is here, in-person, in the same room."
"Those types of conversations don't work online."
Virtual facilitation
"How are they really feeling about this meeting?  It's so hard to read their mood when I can't see them."
"Nobody is saying anything.  Are they even in the room?"
"Why doesn't Joe stop talking?  He's hogging all the airtime."
Learning virtual ways
How do you personally learn, virtual ways, and how does your organization work with that?
"How can we increase the virtual competencies of our staff?"
The webinar confirmed (at least to me) that all of this virtual stuff; how to effectively communicate, relate, collaborate, facilitate, and learn in the virtual space is relatively new.  There aren't decades of field experience on how to work virtually, and given the accelerated rate of technology change, its often comparing apples (10 years ago), oranges (today) and peaches (tomorrow).  So different.
Understanding, explaining, and creating new approaches for working in virtual mediums is a work-in-progress.  We can all learn from each other.
What big dilemmas are you facing when it comes to finding collaborative success, in the virtual medium?
Is your organization wrestling with virtual collaboration practices?