Today is International Women's Day. The UN adopted 'women in the changing world of work' as its' theme for International Women's Day 2017. On that front, UN Women has a few facts you should know, starting with the wage gap: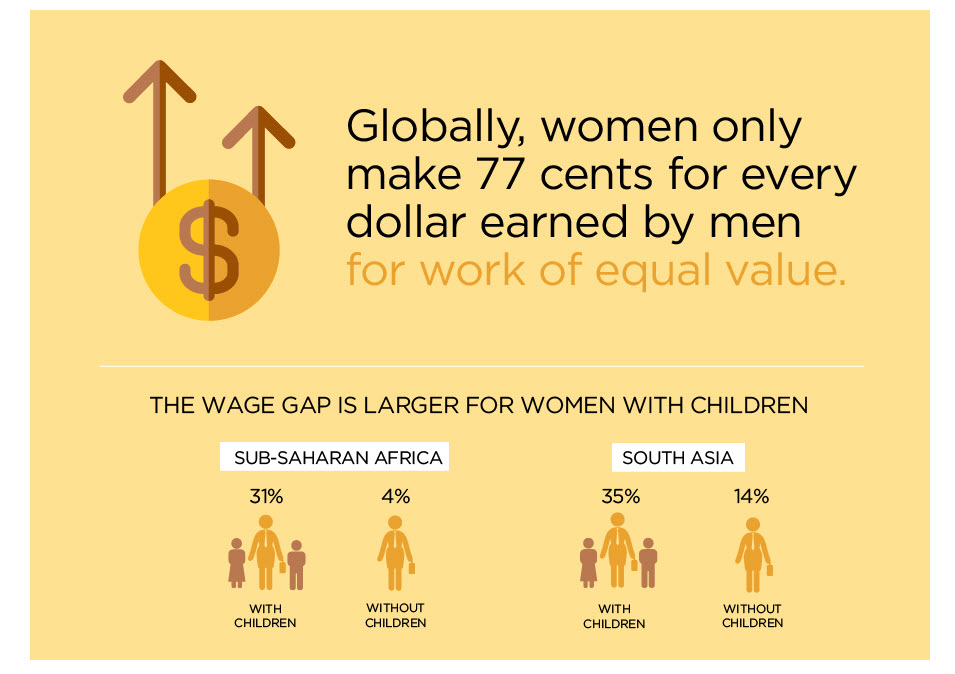 From the Executive Director of UN Women: "Achieving equality in the workplace will involve governments' targeted efforts to promote women's participation in economic life, the support of important collectives like trade unions, and the voices of women themselves in framing solutions to overcome current barriers to women's participation."
As a Workplace Fairness Analyst, I encourage workplaces to operate on the fairness principle; equity of concern and respect for all participants in the workplace.
Here are some diverse strategies and approaches to empower women in the workplace. They reflect my observations and experiences in many different workplace contexts, and my aspirations for advancing women in the workplace.
Legislate for workplace fairness 
Public agencies are called on to be fair; to demonstrate equity of concern and respect for all its' citizens. Respectful workplace regulation is one way. Overhaul of labour laws is another, as Ontario plans to do. Legislation can help offset system inequities in the workplace; inequities that disproportionately impact women.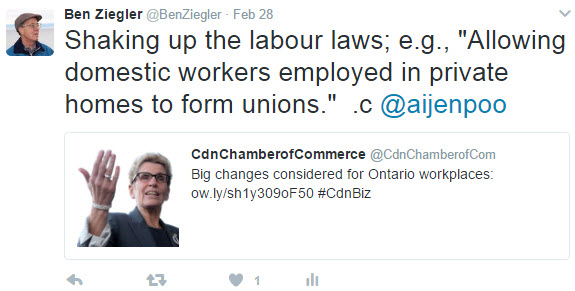 Act collectively
You are not alone, trust me. Yes, unions have been on the decline for a generation or more. Yes, today's workplace reality is increasingly weighted to part-time work, independents, and contract work. Yes, system inequities have grown with this decrease of collective action. Shifting the equity pendulum will require collective action. Unionizing domestic workers especially benefits women. Ai-jen Poo is Director of the National Domestic Workers Alliance. Follow her. Read her book, The Age of Dignity.
Women share their story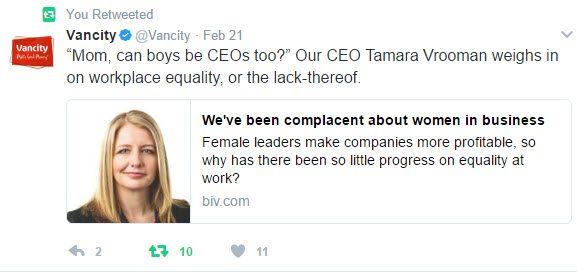 in the "voices of women, themselves". Stories connect. Whether it's the voice of Tamara Vrooman, CEO of my favourite credit union, or the superbly chronicled story and voice of a woman trying to survive a toxic workplace (Uber), stories help move people from compliance to commitment. Stories change us.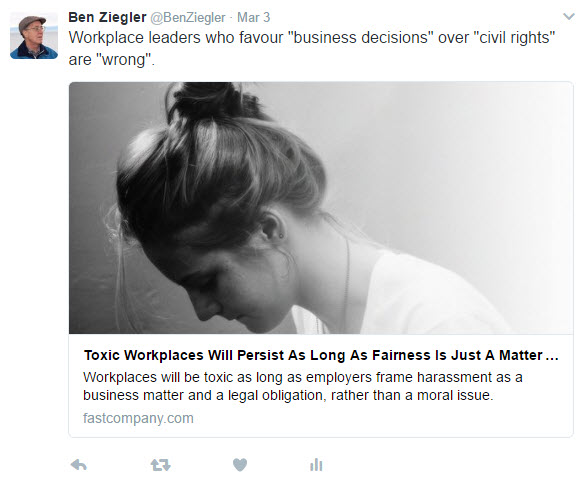 Place a higher value on ethical and social responsibilities
A recent large-scale survey of business students, co-sponsored by Macquarie University and the UN revealed that business students willing to sacrifice future salary for good corporate social responsibility. Further, the research showed female students prioritized ethical and social responsibilities, while males ranked financial responsibility higher. If you are a leader, and want to increase workplace opportunities for women, you have your cue for setting the right "tone at the top".
Enforce a respectful workplace 
Here's a respectful workplace checklist you can download. While its' not gender specific, a respectful workplace is a linchpin of full participation, of women, in the workplace.
Compliance and enforcement are two different things. Workplaces can comply with respectful workplace regulations without fully committing to those same regulations.
Years ago, I was a systems consultant to tobacco control initiatives, at both the local and national level. Having a law on the books that requires retailers to not sell cigarettes to minors does not mean that's what actually happens, even if the retailer tells you they didn't. Checks and audits are needed.
And, here's a thought – maybe understanding of what's a respectful workplace should be a condition of employment?

Diversity is key
Just as adopting a multi-dimensional approach to reducing workplace bullying and harassment, so, too, will adopting a diversity of strategic approaches support women in the workplace.
[To get help creating a fairer workplace, contact me.]