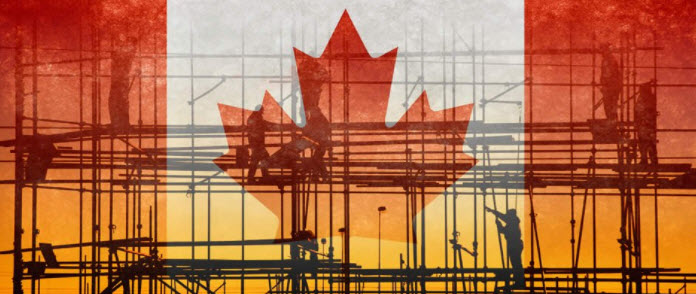 When I was 18 years old, I had no interest in school. So, I went to work at National Steel Car, in Hamilton, Ontario. The company made railway cars. The scale of the operations was huge, overwhelming for me. At the time, I felt a boy among men. Yet, as a (Steelworkers) union member I was entitled to be treated fairly,  I had the same rights as everyone else.
Today is Labour Day
Today, the first Monday of September, is recognized as Labour Day in Canada (Labor Day, in U.S.). The day's origins are tied to the union movement, and recognize the contributions made by unions, and their influence on the workplace; e.g., collective agreements, rights over power, and an effective framework for managing workplace conflict.
Shifting from Power to Rights
In pretty much every workplace, today, there is a mix of conflict management options. These include: power-based, rights-based, and interest-based options, among others.
With the rise of unions, and union-employer collective agreements, workplace conflict management shifted, in part, from power to rights. In today's workplace, it's common  that rights have a larger conflict management role in unionized workplaces; e.g., via the collective agreement. I crudely depict the difference in this graphic: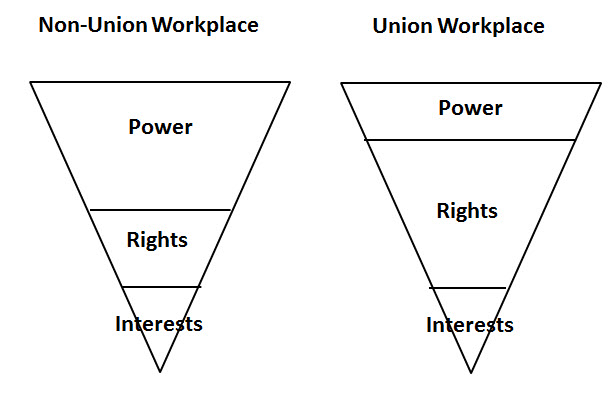 Power-based conflict management options include: workplace regulation, managerial decision-making, resignation/termination.
Rights-based conflict management options include: investigation, arbitration, non-union/union grievance procedure, peer review panel.
Interest-based conflict management options include: interest-based negotiation, conflict coaching, peer mediation, managerial mediation, external mediation, ombuds, open door policy, 360 reviews.
The rise and decline of unionism
The rise of unionism dates back to Pre-Industrial (mid 1800's) times. The percentage of the workforce unionized peaked in the 1950s. The number of unionized workers decline accelerated in the 1980s and '90s. Interest-based approaches have been around since the 1980s (catalyzed by Getting to Yes).
Conversely, while the influence of unions has declined, income inequality has increased. I'm not going out on the limb to suggest a connection between the two.
Addressing the need for rights-based action to serve workers
Responding to recent power-based politics and increased income inequality, new forms of rights-based solutions and services are increasingly finding their way into the conversation; e.g.:
Nevertheless, unions still matter.
Happy Labour Day!
—————————
image credit: Government of Canada
[Ben Ziegler provides conflict management services for small to medium-sized businesses, nonprofits and local governments. Contact Ben.]