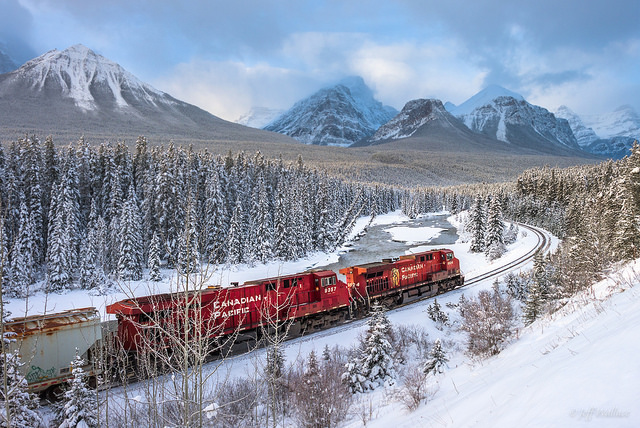 The Canadian Pacific Railway (CPR) has been around almost as long as the nation state of Canada. The CPR was incorporated in 1881.  The last few years have been good ones, for CPR shareholders. Yet, that "success" may have come at a price, workplace culture, as last weekend's Globe and Mail feature on the CPR reveals.
I once worked for the CPR. Fresh out of technical college, at the age of 21, I headed west from my Ontario roots, to the Rocky Mountains, where I spend a couple years as a CPR land surveyor. I've retained a soft spot in my heart for the CPR. However, that soft spot hardened a bit, after reading the Globe's feature.
What's been happening at the CPR?
First off, the CPR stock price has been doing well, as this graph shows: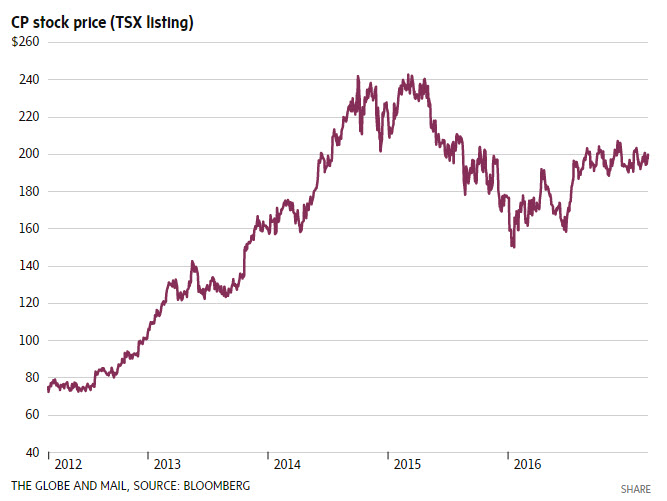 Secondly, CPR workplace culture has taken a hit, during that same period, as measured by the number of union-management arbitration hearings: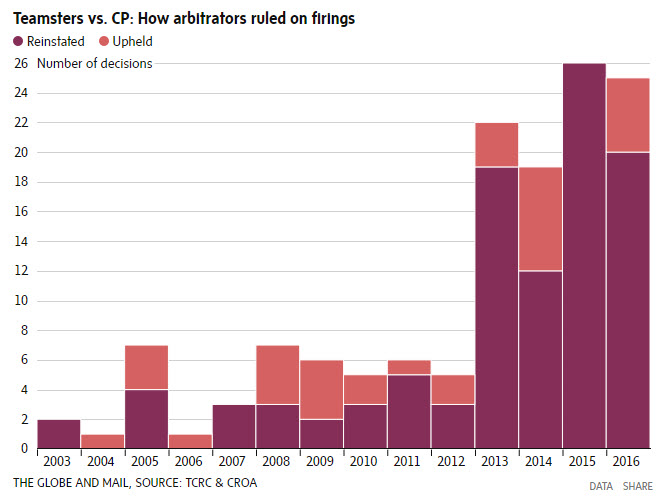 All things considered, an increase in the number of arbitrations reflects an increase in workplace conflict.
Aligned with this period of stocks and conflict rising, was the presence of CEO, Hunter Harrison. Harrison joined, took head of, CPR in 2012. Harrison is a long-time railroad executive, having previously run other major railroads in both Canada and the United States.
Areas of concern
Harrison's management philosophy has increased the stock price, increasing dividend payouts to shareholders.  On the flip-side, workplace relations have soured; evidenced by the increase in arbitrations.
Areas of concern, involving both management and union include:
Job levels; e.g., hires, job cuts, attrition
Operations; e.g., train scheduling, "precision railroading"
Job roles; e.g., expanded use of managers and office staff as train operators in times of strike
Relationships; g., "next strike, we're going to operate 100 per cent with management employees" (CEO Harrison), "they treat their employees as if they're the enemy" (union president)
Discipline; e.g., "Firing lacks proportionality to the factual circumstances of the case" (arbitrator ruling), "allegations appear to be a camouflage of the company's actual reasons that are discriminatory and in bad faith" (different arbitrator ruling)
Negotiations; e.g., "this is Hunter Harrison's guiding philosophy: Tie up the union defending rights they already have, so their demands at the bargaining table will likely be limited to resolving the outstanding disputes over the rights they have right now…" (union president)
Measuring success
The Globe feature paints a picture that concerns me; especially from a principle of workplace fairness.  Beyond arbitration, I'd like to have a further discussion about "success". I might ask questions such as these:
How much is workplace health & wellness worth to shareholders?
Should our ability to dialogue be a measurement of success?
What informal conflict management mechanisms are in use?
These might further nuance the workplace culture conversations.
Then again, it may not matter anymore, as far as the CPR is concerned.  On March 7, 2017, "CSX Corp. (a Florida railway) appointed Hunter Harrison as chief executive officer effective immediately, entrusting the industry veteran with the task of turning around North America's least efficient railroad. He'll stick around as long as shareholders are willing to meet his pay demands."
Image source: Jeff Wallace on Flickr
[To get help managing workplace collaboration and conflict issues, contact Ben]