A bunch of things triggered this list, no pun intended.
Police operate at the intersection of many different civic and community relationships.  That position offers them many opportunities to influence and mediate, in collaborative ways.
1. Fewer guns:  Many cities/countries (e.g., London/UK) don't have every police officer carry a firearm.  Could most of Toronto's cops go gun-free?

2. Twitter for municipal conversations: Police in Jun (near Granada), Spain have their Twitter handle on their uniform.  It demonstrates openness, legitimizes social media, and is a simple way to connect.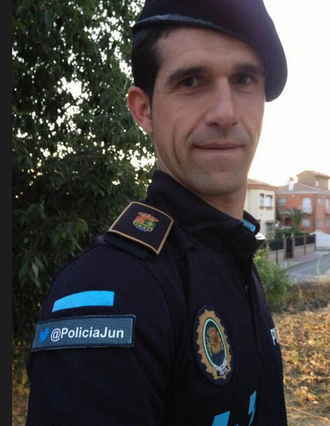 3. Social Media Officer: Victoria Police Constable Mike Russell combines the role of Social Media Officer and Media Spokesperson, and is a role model for community outreach through social media (witness Vic PD on Twitter – @VicPDCanada)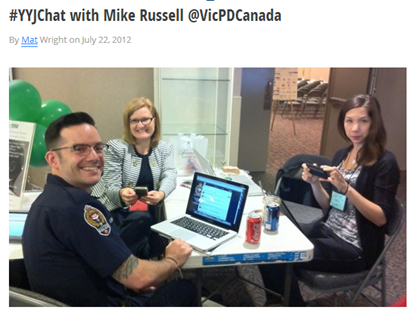 4. Car 87: Car 87 teams a Vancouver Police constable with a registered nurse or a registered psychiatric nurse to provide on-site assessments and intervention for people with psychiatric problems.   A better way.
5. Investing the (police) community's knowledge: Similar to Car 87, Beijing, China uses Mediation buses, each with 2 retired police officers and one serving officer, on-call, to respond to transit disputes.  Inter-generational.
6. Referrals and fundraising for other forms of community justice: Victoria Police Department refers a variety of criminal actions to Restorative Justice Victoria; for appropriate community conferencing resolutions.  They also financially support and lend their name to RJ Victoria fundraising initiatives.
7. Volunteering: Serving up meal at a soup kitchen can shift the perspectives of those who often feel distanced and threatened by police.
8. Collaborating on Good Neighbour Agreement: Residents, city, police, business and social agencies, working together to address major societal issues.   Similarly, crime prevention through environmental design, builds on collaborative partnerships, maybe with an extra dose of creativity (@SeCureCS) thrown in?
9. Changing tactics: Sudbury, Ontario police have moved from prostitution enforcement to helping sex workers.  Why keep at the "old" way when it's not working?
10. Ask the community about their needs:  Not a radical idea.  Yet, it's surprising how few publicly-funded organizations actually do that.  Old school.  Vic PD launching community and business surveys.
What would you add to this mix?