When my two kids were growing up, we often watched Mr. Rogers on television. He was authentic. He communicated, and expressed care, in his own unique way. He was special.
Mr. Rogers
The genial host of "Mister Rogers' Neighborhood" is being celebrated this year on the 50th anniversary of his first broadcast; with a PBS special, a documentary movie, a stamp, and an upcoming feature-length film starring Tom Hanks.
"Mister Rogers' Neighborhood" offered kids a sharp contrast to the louder, more animated competition.
In 1969, Mr. Rogers went before a U.S. Senate committee, in support of public broadcasting. His brilliant 6-minute presentation (embedded below) is delivered unhurriedly, passionately, and connectively. A tour de force:

(If the video isn't displaying – watch it here on Youtube)
In Mr. Rogers' own words (in the video):
"one of the first things a child learns in a healthy family is trust
two minutes of animated bombardment (in reference to most cartoons)
we don't have to bop somebody over the head to make drama on the screen
we speak, constructively, to the anger that arises, the inner drama, in simple family situations
neighbourhood expression of care… I gave an expression of care every day to each child, to help him realize he is unique…
if we, in public television, can only make it clear that feelings are mentionable and manageable, we will have done a great service for mental health"
i think its much more dramatic that two men could be working out their feelings of anger, much more dramatic than showing something of gunfire. I'm constantly concerned by what our children are seeing…
… grateful for your (Senator's) interest in our kind of communication"
He winds up his presentation with the words of a song he wrote for children. It starts with, "what do you do with the mad that you feel…".
Wonderful.
Pink Shirt Day
In Canada, one day in February each year is designated 'anti-bullying day', aka Pink Shirt Day. Today is that day.
The focus for this year's Pink Shirt Day is cyberbullying:
"In today's digital world, it can be impossible to escape online bullying, whether it takes the shape of harassment, spreading rumours, sharing embarrassing information or threats. This year, Pink Shirt Day is encouraging others to combat cyberbullying by thinking twice before posting something negative, and instead using the internet to spread kindness – because we know that Nice Needs No Filter!"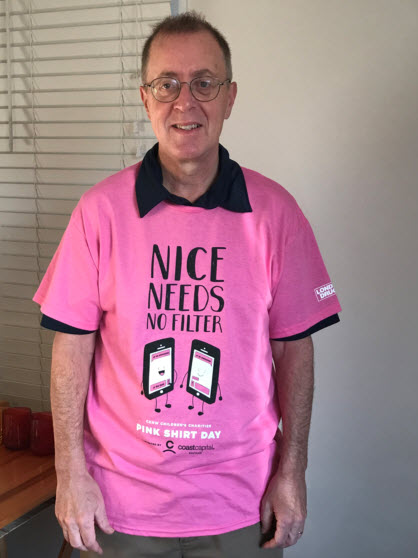 While the focus of Pink Shirt Day is bullying in schools, bullying behaviour has no boundaries. Schoolyard bullies, unanswered, take their act forward; to their families, communities, workplaces.
Mr. Rogers understood that as well as anyone.  May his spirit live on, in all of us.
[Ben Ziegler is a collaboration and conflict management specialist serving SMEs, nonprofits, and local governments. Contact Ben.]