Solving big challenges often requires putting a team of diverse people, skills and interests together. It takes a system to change a system. Yet, getting everyone rowing together for collective impact is never a slam dunk. And, when the people are from different organizations,effective collaborative action often feels just beyond our reach.
When I'm having conversations about collective action, I have an action-oriented framework in mind for getting work done. It's built around Action Teams. It looks like this: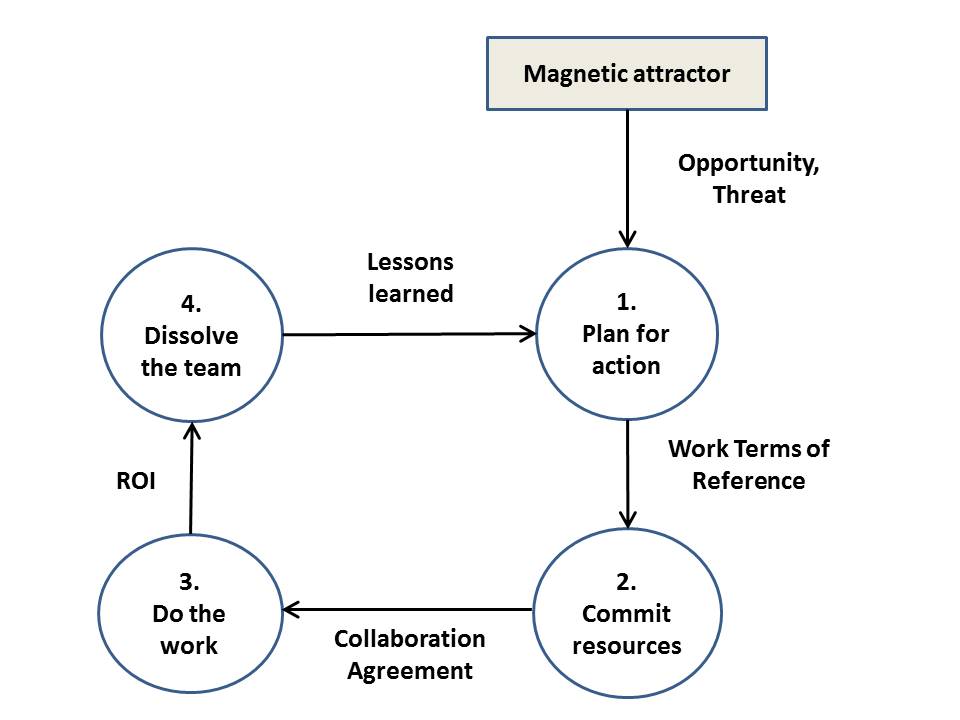 I initially constructed this framework as part of project (with Lee Sentes) supporting collaboration in the nonprofit sector; for Vancouver Foundation and StepUp BC.
Since then, I've come to see this a generic action-oriented framework, applicable to many different contexts.
Action Team Life Cycle
Action Teams have a life cycle. An Action Team isn't permanent. People in Action Teams are collectively drawn, magnetically attracted, to respond to an urgent need, opportunity or threat. The more urgent it is, the better. If you want a team to fail, look no further than a lack of urgency.
Maybe the attractor is a pressing social concern (homelessness). Maybe it's a economic (time boxed business opportunity). Maybe its' an environmental threat (natural disaster). No matter.
Intrinsically motivated and with collaborative leadership, Action Teams emerge and assemble, propose a course of action, commit resources, do the work, and move on.
Shared vision. Common values. Dynamic process.
Resources for Action Teams
To help navigate the Action Team life cycle, here are a few resources I rely on:
Magnetic Attractor. I came across this term via Tonya and Mark Surman's Constellation Collaboration Model. Having a strong magnetic attractor is vital. Without a sense of authentic urgency, the challenge grows exponentially. Make sure you're clear on why we have gathered here, today.
Terms of Reference: For two decades, I've routinely adapted the BOSCARD template for work definition; Background, Objectives, Scope, Constraints, Assumptions, Risk, Deliverables. It's a simple, flexible model. Food staple for the project manager.
Collaboration Agreement: When partnering with others, jointly create and sign-off on a Collaboration Agreement. I use Stewart Levine's templates, in The Book of Agreement. They are practical, relationship-oriented, and feels right to me. A Collaboration Agreement can incorporate the work Terms of Reference, or be a stand-alone document.
ROI and Lessons Learned? Well that varies. Evaluation metrics are not everyone's cup of tea. They are critical, though. Through measurement and feedback, we position ourselves to do better, next time. For the nonprofit sector, my go-to resource is Beth Kanter's Measuring The Networked Nonprofit. Her book shows how to make the intangible, tangible. None better.
When your teaming with others, for collective action and impact, what resources have you relied on?