Over the last few months, CIO Magazine has been posting snippets of a video interview of Sheila Jordan, SVP, Collaboration and Communication IT, Cisco Systems and Jim Love, CIO, IT World Canada.  (Note: CIO stands for Chief Information Officer)
The last snippets of that interview were aired this week.   Having spent a previous career as an IT consultant to (mostly) large organizations, and as a user of a Cisco product (WebEx, a widely used videoconferencing tool) and of course into collaboration, especially in virtual contexts… this interview was of interest.
One of the snippets (snippets work well for time-strapped viewers!) was on social collaboration.  Here is the link to that video (or click on the image below to access it):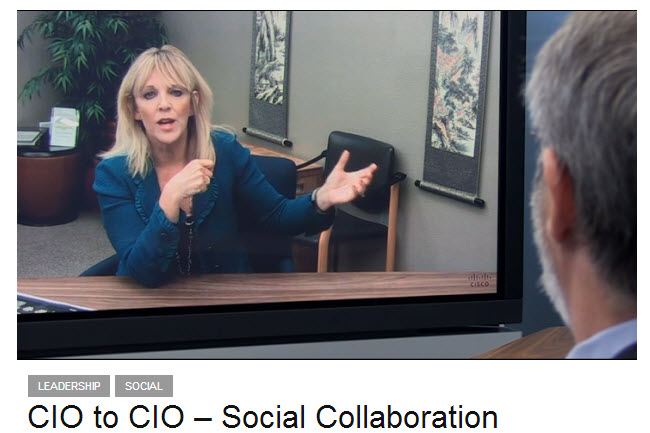 Access the other videos in the series (8 in total) here.  All told, they add up to maybe 50 minutes of viewing time.  I watched them all.
Here's a few of my takeaways, from the series:
fill in the white spaces; e.g., between marketing and engineering departments, there are valuable conversations going on there that aren't being effectively captured/shared;  my observation: the white spaces are similar to Scott McCloud's gutter
the collaborative story includes structured and unstructured content 
content "find-ability"; we're drowning in content… align available content with the person's need
"the progression of communication"; match communication channel with the need; e.g., if you don't need to talk, use email or text…
technology should be simple, intuitive and add value for the customer, "as creators of technology, we should have the mindset that no training is required"
BYOD – bring your own device policy; you own the device; corporate will pay for it, with conditions
work isn't a noun/place, its a verb:  we "work" at home, go to office to socialize?
facilitate community within the organization: bring together those with similar passion and content needs; me: use your facilitator communication skills
collaboration is the convergence of  video, mobile, social, apps and content; Cisco's definition
replicate the customer experience for your employee; assumes the customer experience is a good one!
need to balance process, culture and technology; technology is the easiest to do… note: focusing on the message part of the medium (technology), and you have the work of mediators
start small; first, get people to adopt the collaborative approach, then work on the value-add; avoid the big bang approach to corporate collaboration
If you want to know more about collaboration, as viewed from the lens of a corporate IT leader, this interview series is worth checking out.  The interviewing is straight forward, and each video nicely packaged and annotated.
PS. If Cisco is looking for an additional way to expedite their collaboration journey, I have an idea for them… Picture Collaboration. 🙂