Reach your business goals.  Work together, better, In Real Life and virtually.

The beauty and challenge of collaboration
Collaboration is about people working together.   Great things can happen when everybody is working from the same game plan.   The real success stories of our time are about good collaboration: businesses, sports teams, political campaigns, causes…
Both you and I know that collaboration can be a challenge.   You may have been put in a situation and asked to work with others who are very different from you.   Or, maybe you have a great idea, and you know to move it forward you need to work closely with "that person".   Or, maybe you are an executive tasked with changing the work culture in your organization.  None of this is easy.   Yet it all involves working constructively with other people.
Work together… the collaborative way
Working well together starts with you.   Its in your power to establish constructive relationships with others.   Here's some ideas I have about how to do just that:
With practice, collaboration becomes a habit.   It then makes it easier for you, as a collaborative leader, to extend those collaborative ways into your workplace, your community spaces, your place of workship, your family…  anywhere that matters to you.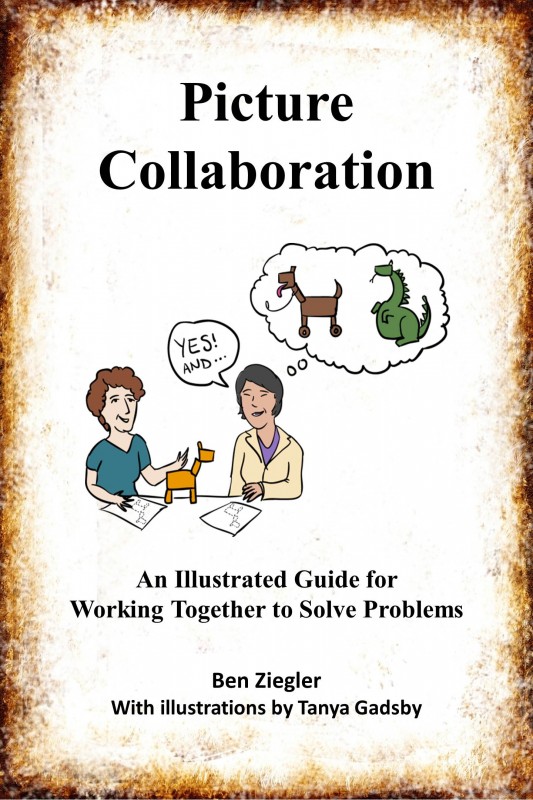 It is our habits, my habits(!),  that triggered Picture Collaboration: An Illustrated Guide for Working Together to Solve Problems, my e-book collaboration with graphic recorder, Tanya Gadsby.
Look around my site, here, you'll find hundreds of ideas, practices, book and video reviews, and stories about how others are finding success through collaboration.   Some of these come from my own experiences, and others from amazing individuals, local and afar, that I respect and admire for their collaborative moxy.   Inspiration can come from many places:
Case studies of my consulting work
How I can help you achieve success through collaboration
Build consensus and reach agreement. I facilitate difficult conversations.   I help stakeholders identify, organize, and prioritize their needs.   As a mediator and facilitator, I make it easy for you… to bridge stakeholder interests, find common ground, and create  results oriented  agreements.  Results-oriented agreements are a roadmap for moving forward, together.   Here are some of the organizations I've worked with.
"Ben is a creative thinker and blogger. In the Philippines, he pulled off a tricky assignment with CESO when he photographed, videotaped and interviewed people for a blog. His positive messages, actions and collaborative approach demonstrated how to work with others in projects here and abroad. "  Alex Gillis, (former) Communications and Public Engagement Manager, Canadian Executive Service Organization
Run a successful project. I assist project sponsors with project planning and monitoring.   With a background in project management and information systems consulting, I expect you appreciate the role and value of structure, as I do.
"I hired Ben as a project manager for a high risk, many-faceted project. His attention to detail, realistic approach and consultative manner gave this project the boost it needed. I would hire him again unreservedly."  Pam Wilkins, British Columbia Government
Distance collaboration.   With today's technology, there are many benefits, financially and ethically, for working virtually.   It's what I do.   I help people get their problems resolved, from a distance.    With ideaconnection.com,  I facilitate teams of problem-solvers, geographically dispersed, to work on innovation challenges.   I worked as a virtual collaboration consultant to the Board of Directors of the International Association of Facilitators.  I deliver workshops and training on Virtual Collaboration.
"Ben worked as an IT Consultant for us at the Distance Mediation Project, an Online Dispute Resolution family mediation pilot project of the BC Mediator Roster Society.  He was precise in his work, able to see both big and small-picture issues, and brought many valuable ideas to our project."   Susanna Jani, Project Director, BC Distance Mediation Project
Let's connect
Need help in getting everyone on the same page? Contact me.   And, let's see if we can collaborate for success.