It's summertime. Setting aside the smoke from distant forest fires that currently hover over my city, summertime is a usually a good time to head out-of-town. When gas is involved, my go-to gas station is Peninsula Co-op.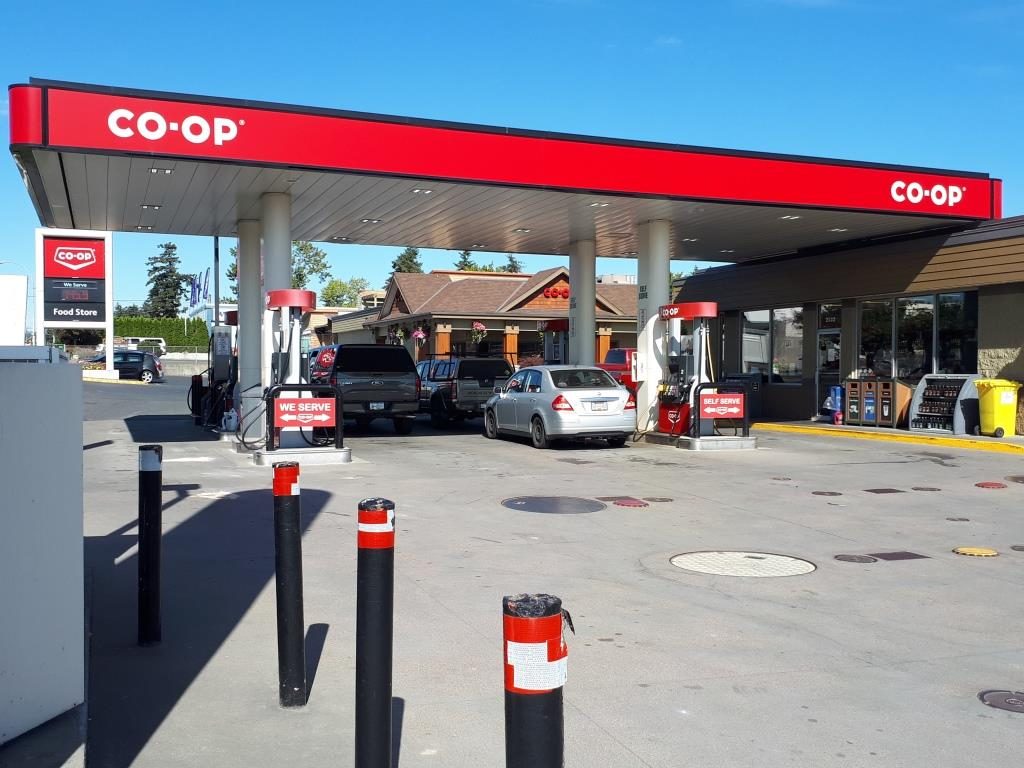 Why Peninsula Co-op? I'm a Peninsula Co-op member, which makes me a part owner. In co-operatives, members are owners. And, being drawn to cooperative, collaborative, types of work, I thought I'd dig a bit deeper into the co-op business model, and connect with some folks at Peninsula Co-op to learn more about my (their) co-op. First, though – a bit more about the co-op model.
The Co-op Model
A co-op (co-operative) is a business that's owned and controlled by its' members. Co-ops are locally owned; authentic community connection. In consumer co-ops, such as is Peninsula, members are usually regular shoppers. Co-ops are the only business where the shoppers own the store.
By becoming a Co-op member, I became a part owner of the business and share in the earnings of the Co-op. I can also attend annual meetings, vote on resolutions and run for a position on the Board of Directors.
Each co-op store reflects the needs of its local community. Local needs guide the selection of products and services offered, at each store. Each store is both autonomous in its operation, and part of the co-operative, collective.
Peninsula Co-op 
Peninsula Co-op is a Vancouver Island based co-operative. Started in 1977, its' core business is in grocery, petroleum and convenience stores; including: 18 gas centres, a Food Centre, 3 commercial cardlocks, and 4 privately owned (affiliated) dealers. Head office is based in Saanichton, just outside of Victoria.  Peninsula Co-op employs 320 full and part-time employees.
Peninsula Co-op has approximately 100,000 active member-owners. In 2017, they gave back $5.3 million dollars in (member) rebate cheques, and donated over $500,000 to 300 local charities, organizations, youth groups, student scholarships and community projects." Their motto is "moving ahead by giving back."
Recently, I sat down with Toni Stansfield and Lindsay Gaudette, both who are part of the Peninsula management team. Toni is Human Resources Manager, and Lindsay is Marketing & Community Relations Manager.
From my curiosity conversation, with Toni and Lindsay, here are a few of my findings:
Leadership  
 The management team has, for the most part, come up through the ranks
The co-op culture starts with management, and a "fairness" approach
Peninsula Co-op is a flat organization – each gas centre/store is its' own entity – with its own manager
Senior leadership and operations management teams meet regularly, formally and informally (e.g., off-site locations)
Peer-to-peer learning is the norm; "togetherness" facilitates peer learning
A 11- member Board of Directors ensures decisions are made by a well-rounded committee, and not by a single individual.
 Staffing and operations
Most hiring is of entry level personnel; looking for friendly, warm, connective people
Referrals to family, friends…are common, "nepotism" is encouraged
It's understood that Co-op employment is a stop for many; "co-op work helps prepare you for your post co-op life"
Employee training focuses on the soft skills; "technical skills are relatively easy; finding the right fit is what's most important"
Training and onboarding is done both in-person and online
Federated Co-op (see below for more insight into their role) delivers training courses for Peninsula Co-op staff
Mentoring is part of the staff development process
Internal promotion is valued
Co-operation among co-operatives
Peninsula Co-op is one of 200+ independent co-operative associations that, collectively, own Federated Co-operatives Limited (FCL). As a co-operative itself, FCL supports other local co-ops; e.g., Peninsula Co-op, as shown in this image from the FCL website:

"FCL provides central wholesaling, manufacturing and administrative services to its member-owners. It's combined sales approximate $10 billion annually. FCL operates in upstream and downstream energy sectors by exploring and developing oil resources with a focus on refining, distributing and marketing fuels and lubricants."
The network of co-operative associations and sector federations reaches far and wide. Peninsula Co-op is a member of the BCCA Co-op, which in turn is a member of the International Co-operative Alliance.
Become a member
If you aren't already, consider joining a local co-op. Co-operatives are the flip side to a divide-and-conquer mindset. Co-op business longevity is typically twice that of other ownership models – a worthwhile investment, wouldn't you agree?
[Ben Ziegler is a collaboration and conflict management specialist serving SMEs, nonprofits, and local governments. Contact Ben.]