Canadian writer Alistair MacLeod passed away, yesterday, at the age of 77.
I first came across his writings over a dozen years ago.  At that time, I was into all things Cape Breton (on Canada's East Coast), especially fiddle music. MacLeod's summer home was near Inverness, Cape Breton. He spent 40 years teaching English and creative writing at the University of Windsor,  in Ontario.
MacLeod wrote about Cape Bretoners. His sense of place, combined with his ability to tell a story still haunt me.   (If you've been reading this blog for a while, you'll know how I feel about 'place')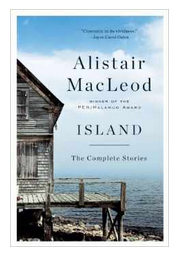 I have yet to read more powerful Canadian literature.  His 1999 novel No Great Mischief was voted Atlantic Canada's greatest book of all time, in addition to winning international awards.  His collection of short stories, Island, of working class people, and more, are breathtaking.
"Alistair MacLeod's birthplace is Canadian, his emotional heartland is Cape Breton, his heritage Scottish, but his writing is of the world." (editor, Irene Guilford)
So true.
MacLeod's funeral will be in Cape Breton, this coming Saturday.   I'll shed some tears, in advance.