Hi there. Welcome to my website. Here's a bit about me, Ben Ziegler:
I am an independent conflict management and collaboration specialist. My home base is the city of Victoria, on Canada's west coast.
My work
As a conflict management and collaboration specialist, I provide these services:
Dispute Resolution;  business-2-business, business-2-customer, in the workplace, in the community
Conflict Coaching: helping workplace managers and employees deal with conflict behaviours
System Design; conflict management and collaboration frameworks and processes
Group Facilitation; in-person, virtual teams
Education and Training; workshops, public speaking
As a Certified Professional Consultant on Aging, I am committed to supporting the needs of caregivers and the elderly, and to furthering the development of care, relationship-based, infrastructure.
What I stand for
At the core of my belief is that good things can happen when people come together, feel safe in the process, and have constructive conversations about things that are important to them.
Accreditations

Affiliations and Memberships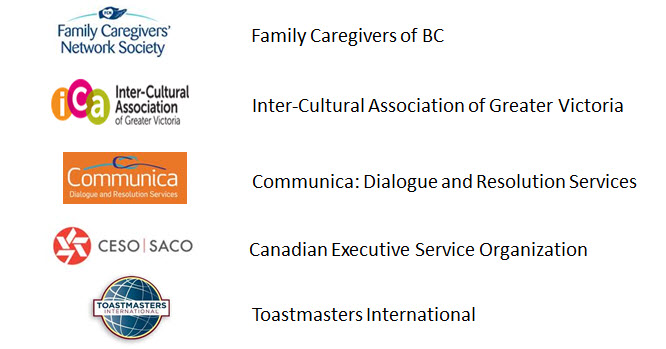 Summary of credentials
As a mediator, I've worked continuously since 2002. I am a member of the British Columbia (BC) Mediator Roster, mentor mediators, and have served as consultant on numerous BC Government online dispute resolution initiatives. I am certified to administer the Conflict Dynamics Profile ® assessment instrument.
As an Innovation Facilitator with IdeaConnection, I facilitate virtual teams of problem solvers, working on innovation challenges. I co-created an innovative collaboration model and guide for BC non-profits.
I am a Certified Professional Consultant on Aging, and a member of the Elder-Friendly Community Network. My own experience as a caregiver led me to involvement with the Family Caregivers of BC, for whom I currently facilitate a caregiver support group. I advocate for community and workplace solutions that address the needs of caregivers.
Previous careers include 14 years in the high tech sector (business analysis and project management, with Accenture and Sierra Systems), and multiple roles in civil engineering (land surveyor, planner, construction project manager). 
I have served on numerous non-profit boards, including with Restorative Justice Victoria, as a volunteer adviser in the Philippines with the Canadian Executive Service Organization, and am active in Toastmasters International.
On this site, you'll find my blog; started in 2009, I've posted over 300 articles; mostly on conflict management and collaboration practices. I've created resources that you can access and download, for free; e-books, checklists & templates, presentations, case studies, and more. I also offer an e-learning course on Virtual Collaboration.
Visit my LinkedIn profile.
Testimonials
"Ben is very conscientious, always prepared, very friendly, good with people, and I recommend him as a mediator in pretty much any civil/commercial dispute."   Lee Turnbull, Senior Advisor, British Columbia Court Mediation Program
"I hired Ben as a project manager for a high risk, many-faceted project. His attention to detail, realistic approach and consultative manner gave this project the boost it needed. I would hire him again unreservedly."   Pam Wilkins, Manager Technical Communications, British Columbia Ministry of Forests
"Ben worked as an IT Consultant for us at the Distance Mediation Project, an ODR (online dispute resolution) family mediation pilot project of the BC Mediator Roster Society. He was precise in his work, able to see both big and small-picture issues, and brought many valuable ideas to our project."  Susanna Jani, Distance Mediation Project Coordinator
"Ben is a creative thinker and blogger. He pulled off a tricky assignment in the Philippines when he photographed, videotaped and interviewed people for a blog for CESO. His positive messages, actions and collaborative approach demonstrate how to work with others in projects here and abroad." Alex Gillis, Public Engagement Manager, Canadian Executive Service Organization (CESO)