The challenges of working together, virtually
Increasingly, collaboration happens online. Managers are asked to lead and motivate others, from a distance. Teams operate virtually. Employees and contractors work from home. Old ways and new ways of doing business co-exist. This leads to new challenges.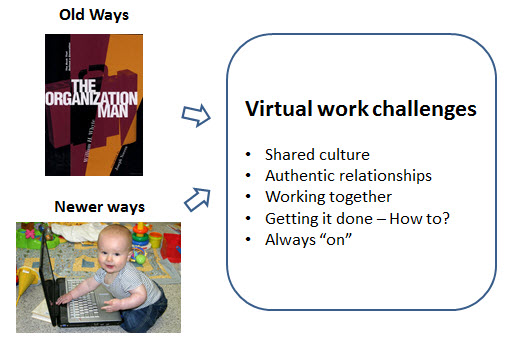 How to stay focused on people and relationships?
How to get everyone on the same page?
How to bridge cultural differences?
What's a safe way to have difficult conversations?
How to plan and design collaborative virtual meetings?
What tools should one use?
How to get things done online, when technology is such a barrier?
How to keep attention and engagement high?
Welcome to 'Virtual Collaboration'
To address these virtual challenges, I created, Virtual Collaboration: Effective communications, strategies and tools for working together from a distance, a self-paced e-learning course.
Virtual Collaboration provides a practical and engaging e-learning experience.  It is oriented to today's professional, making 'a go of it', in a world of information overload and distributed attention.
Virtual Collaboration:
adopts a micro-learning approach; learning in small chunks; each unit takes only a few minutes to complete, and the entire course: 2-3 hours, in total
provides user-friendly interface and course navigation

utilizes screen casts, videos and images throughout; the power of visual learning

contains original, practical (and challenging!) activities to test your understanding of the material
includes complementary downloadable resources
offers an (optional) certificate on completion
Check out the Virtual Collaboration – Table of Contents.
Benefits of Virtual Collaboration
On completion of this e-course, you will know how to:
Effectively communicate, i.e., get your message across, in the virtual medium, regardless of the channel.
Apply "appropriate" frameworks and tools to your virtual conversations, meetings and teams.
Facilitate virtual collaboration in ways that both: get things done AND enhances personal connection and relationship.
As a result, not only will your personal virtual collaboration capacity grow, you'll also be positioned to increase the value of your work, to others.
What does it cost and how do I get it?
This course is currently offered for free!
To get the course, click here.

More FAQ
Who is this course for?
Anyone involved in virtual conversations, meetings or teams. Whether you're an HR manager, project manager, facilitator, customer service rep…  this course will help you work virtually, better.
Can I access the course immediately?
Yes. Registration and payment is fully automated. Upon payment, access to the course is immediate.
Can I access this course from my mobile phone? 
Yes. This course is designed to be mobile-response. You can access it from most any device.
Can I complete the course at my own pace? 
Yes, you can start/stop at any time; learning in small chunks, on demand. Access to the course is limited to 3 months.
Can I access the course content in the order that I want?
Yes. Each unit can be accessed/completed in the order you choose.
My employer wants proof that I completed the course. Can you provide it? 
Yes. Once you have completed all the units, including test questions, you have the option of printing a course 'Completion Certificate'.
If I have questions about the course, how do I contact you?
You can message me directly, from the course. Got a general question about the course? Contact me, here.
Collaborate better, anywhere!
These days,collaboration happens everywhere. Even if you're a digital native, this e-course will explain and show how to do virtual collaboration, better. Are you on-board? Great. Let's get started with Virtual Collaboration:
To get the course, click here.